Agenda
There are no events at this time
| | | |
| --- | --- | --- |
| Two Students of IPOLS - FH UMY on Their Way to China and South Korea | | |
After passing several rounds of selection, Yuliani Iriana Sitompul of IPOLS Batch 2013 and two other students of UMY, namely Mohammad Fajar Winata (IPIREL 2010), and Febryan Yovi Saputra (Pendidikan Dokter 2012) secured the opportunity to participate in Daegu Health College's 2014 Global Student Leadership program in Daegu, South Korea. They have been chosen to partake in the challenging extra-curricula program on August 10-20, 2014. Throughout the program, they will have the chance to explore the Korean culture. They will also be cultural ambassadors – they hope to showcase the Indonesian culture through a traditional dance that they will perform in South Korea.
Yuliani is an aspiring notary. "I am also thinking about being a lecturer," she added. She is excited to experience the international atmosphere of this program. Besides studying law, she also actively participates in moot court competitions and will be competing in Universitas Indonesia on June 12, 2014.
Yovi is a rising medical student. As a high school student, Yovi has also participated in Jenesys, an exchange program administered by the Japanese government. He now leads the Muhammadiyah Medical Student Association in Universitas Muhammadiyah Yogyakarta. He is currently busy leading the preparation for the 10th International Tropical Medicine Summer School, an international summer school program for students interested in studying about tropical medicine. As a medical student, he looks forward to learning about Daegu Health College, particularly its medical studies.
When their peers are on their way to South Korea, Herwin Kurniawati, also the IPOLS student Batch 2013 and Satria Rizaldi Alchatib from IPIREL Batch 2012 are invited to participate in the AUAP-SIAS Student Mobility Programme 2014, a global leadership camp in Xinzheng, Henan, People's Republic of China. They will spend approximately three weeks plunging into various discussions concerning global topics such as politics, business, and world's economy.
Herwin studies law in UMY's International Program of Law and Shari'a. She is particularly interested in China's economy. "China is a huge country with huge economy, similar to Indonesia – in this program, I hope to learn about how the economy works there," she remarked. She also hopes to learn more about the law system in China.
The Faculty of Law of UMY wishes Yuliani and Herwin the best of luck for their future endeavors.
| | | |
| --- | --- | --- |
| IPOLS – FH UMY dan KEMENLU RI Adakan Workshop Pembuatan Perjanjian Internasional | | |
International Program for Law and Sharia-Fakultas Hukum (IPOLS-FH) Universitas Muhammadiyah Yogyakarta (UMY) Bekerjasama dengan Kementerian Luar Negeri Republik Indonesia (KEMENLU RI) mengadakan Basic Workshop "Pembuatan Perjanjian Internasional" pada Sabtu (17/05) bertempat di Ruang Komisi AR. Fachruddin A lantai 5 UMY. Materi ini disampaikan langsung oleh Direktur Perjanjian Ekonomi dan Sosial Budaya KEMENLU RI, Abdul Kadir Jaelani, S.H., M.H, M.A., dan secara resmi dibuka oleh Wakil dekan Bidang Kemahasiswaan Mukhtar Zuhdi, S.H., M.H., selain itu hadir pula Direktur IPOLS Yordan Gunawan SH., Int., MBA., dan beberapa staf pengajar FH UMY, antara lain Fadia Fitriyanti, S.H., M.Hum., M.Kn serta Nasrullah, S.H., S.Ag., MCL.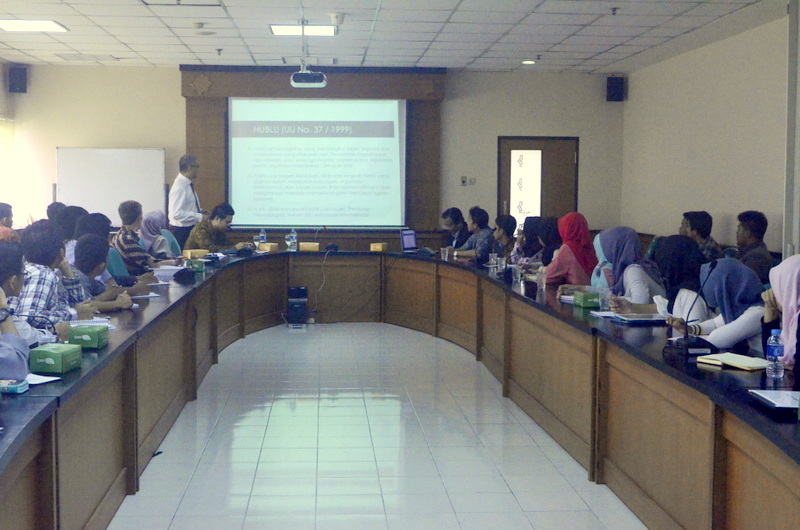 Dalam pemaparan materi, Abdul Kadir menjelaskan, bahwa menyusun draft perjanjian internasional bukan hal mudah, akan tetapi proses pembuatannya hampir sama dengan menulis artikel dan skripsi jika diperhatikan dalam struktur kalimat serta bahasa yang digunakan, "Menyusun perjanjian internasional bukan hal yang mudah, berlandaskan hukum internasional dan proses pembuatan sebuah draft perjanjian internasional tidak bisa dengan bahasa awam dan bisa dikatakan seperti menulis artikel ilmiah dan juga skripsi. Jika kita pahami dari segi struktur kalimat, bahasa yang digunakan, dan definisi serta tujuan yang ingin disampaikan ya mirip karya ilmiah, hanya saja bedanya ini bagian dari hubungan internasional, jadi harus sangat hati-hati", paparnya.
Disela-sela pemaparan, Abdul Kadir menambahkan, bahwa sudah menjadi kewajibannya untuk menyampaikan proses-proses yang terjadi dalam perjanjian internasional kepada publik selain tanggung jawabnya mengabdi kepada negara, "Ini menjadi kewajiban bagi Kemenlu untuk menyampaikan kepada publik, karena tugas kita bukan hanya kepada negara, tapi juga berkewajiban mengisi ilmu pengetahuan, bagaimana proses yang dihadapi dalam perjanjian internasional yang dilakukan negara ini", terangnya.
Berbeda dengan Abdul Kadir, dalam kesempatan yang sama Yordan Gunawan mengungkapkan kegiatan ini terselenggara karena kebutuhan pengetahuan untuk menghadapi Asean Economic Community (AEC) yang berjalan dengan sangat tergantung pada perjanjian internasional, "Acara ini memang diinisiasi ketika saya bertemu di kedutaan Rusia, dengan salah seorang alumni UMY, yang kebetulan di kementerian luar negeri, lalu kita bersama-sama merumuskan apa yang bisa dilakukan untuk memberikan sedikit pencerahan menuju Asean Economic Community, karena apapun ternyata Indonesia saat ini sudah berada di era globalisasi, dan kita tidak bisa menolak, semua tergantung dari perjanjian, termasuk antar berbagai negara", Ungkapnya.
Acara yang berlangsung sejak pagi hingga sore hari ini mendapat antusias tinggi dari kalangan mahasiswa sebagai peserta workshop. Hal ini terbukti saat mahasiswa terlihat bersemangat hingga acara berakhir, "Kegiatannya sangat menarik, produktif, memberikan wawasan baru kepada mahasiswa khususnya dalam pembuatan perjanjian internasional, serta memberikan pemahaman kepada mahasiswa lebih berhati-hati dan teliti dalam menulis perjanjian", ujar Muhammad Soni salah satu peserta Workshop. (Shidqi)
<<

Start

<

Prev

1

2 3 4 5 6 7 8 9 10 Next > End >>


Page 1 of 57